Share on the local network
Share on the local network
https://help.heredis.com/wp-content/themes/corpus/images/empty/thumbnail.jpg
150
150
Heredis Help Knowledgebase
Heredis Help Knowledgebase
https://help.heredis.com/wp-content/themes/corpus/images/empty/thumbnail.jpg
To share the open genealogy in Heredis, select the File menu > Share on the local network or click the Share button in the

toolbar, if you've put it. Check out the Customize Heredis article to learn more about customizing the toolbar.
This tool allows you to have your file on multiple remote devices (computer, tablet or phone).
Requirements for sharing
Make sure you have 2 compatible versions of Heredis. For a connection between 2 computers, you must have the same version of Heredis on both computers. On your phone or tablet, you need the Heredis app for Android or iOS.
Beware, for versions prior to Heredis 2020, you need the iOS or Android Heredis app without a version number. Since Heredis 2020, each version of Heredis now has its own app. When you change versions, consider downloading the similar version for iOS or Android.
Make sure your computer and/or Internet box firewall or anti-virus allows Heredis to access your private network.
Open Heredis on both devices.
Turn off 3 or 4G on your phone or tablet. Sharing is done via WiFi only.
Share your file for the first time
Heredis opens a sharing window and displays the list of devices connected to your local network and on which the software is launched.
If the open genealogy has never been shared, choose a device available from the proposed list and then click Share to link the genealogy with the chosen device. The remote device then receives a sharing request.
Note: The remote device must have double the volume of the transferred file. Be sure to turn off your device's automatic sleep.
(Windows) Share on local network window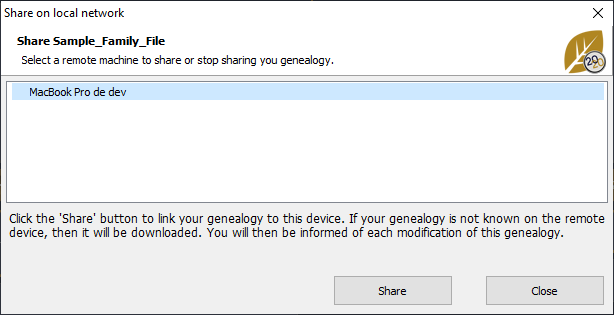 (Mac) Share on local network window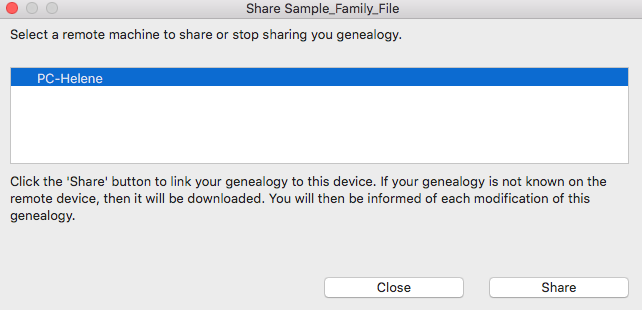 On the remote device, Heredis asks you for permission to receive the file. When you click the button (Windows) Yes, (Mac) Accept, Heredis copies, on the remote device, all the data of the open genealogy as well as the media.
Your genealogy is now linked to two devices, such as your desktop computer and your laptop or your phone.
Share your file again after changes when the link is already made
From Heredis on your laptop or phone or tablet, make changes and save new data in your genealogy.
Then open this genealogy on all your devices with this shared file.
If you're connected to the local private network, Heredis automatically alerts you that a newer version of your file is available on the device from which you made changes and which is connected to your local network. In this window, the key info in the remote file is displayed (change dates, number of individuals, last modified individuals) and you can compare them with those of the open file.
If you click the Receive button, Heredis updates the genealogy with the data entered or changed. Only genealogical data or media that have been modified, or added will be transmitted.
(Windows) Receive changes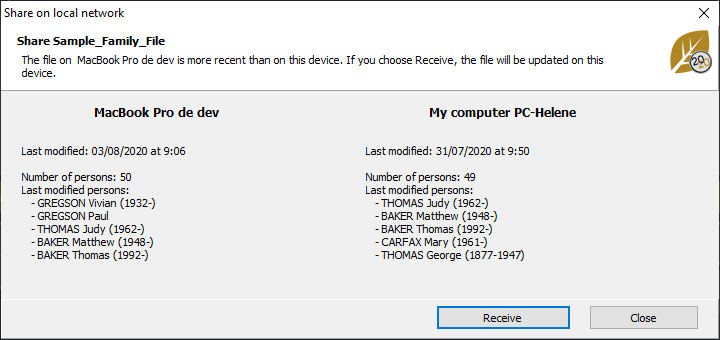 (Mac) Receive changes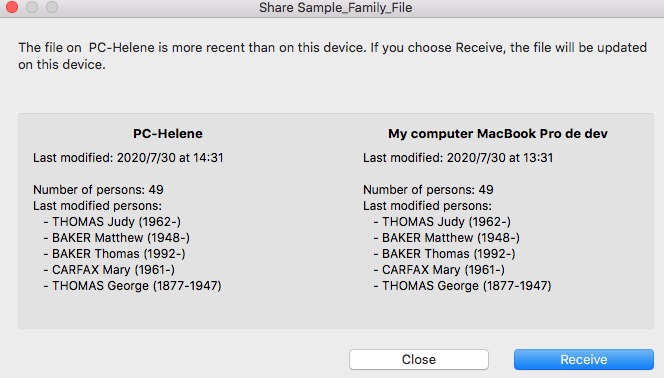 Warning: Remember to update your devices before making any changes. If you've made changes to your phone without updating your file on your computer, and then make changes to the computer, Heredis will only keep the latest information in chronological order. So you'll lose the modified data on the phone.
Heredis will always offer you the latest file. If you agree to receive it, changes made to the least recent file will be lost.
If you no longer want to share your file with a remote device:
From the File menu > Share on local network, select the device.
Click the Don't Share button.
The device in question will no longer receive notifications regarding updates to this genealogy.
You can reactivate this sharing at any time by clicking the Share button again.
Info – For the information to be shared, the genealogy file must be recorded.
A problem with sharing?
Share on the local network no longer works:
Make sure your firewall and/or antivirus doesn't block Heredis. On Windows, there is a built-in firewall, so it may duplicate if you have one in your anti-virus. Also check the firewall of your Internet box.
Make sure you have 2 similar versions of Heredis. For example, Heredis 2020 for Windows communicates with Heredis 2020 for Mac, iOS or Android only.
Are you on Windows? Check out the article (Windows) Heredis cannot detect my remote devices – I am getting Bonjour messages.