(Windows) Apply a selection to a tree chart
(Windows) Apply a selection to a tree chart
https://help.heredis.com/wp-content/themes/corpus/images/empty/thumbnail.jpg
150
150
Heredis Help Knowledgebase
Heredis Help Knowledgebase
https://help.heredis.com/wp-content/themes/corpus/images/empty/thumbnail.jpg
Heredis allows persons to be identified by applying a particular layout in ancestors tree charts, descendants tree charts, or hourglass tree charts.
Select boxes in the tree chart
There are several possibilities for selecting a group of boxes.
To select a box in the tree chart, click on the box.
To extend the selection, you can:
hold down the left click of the mouse and draw a rectangle around the boxes you want to select.
make a selection based on specific criteria, click right on the box or unroll the Selection menu. You can then extend the selection(Ancestors, Descendants or Generation of the selected person, or All the Tree), select only the men, or only the women.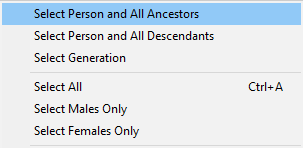 Use the Shift or Ctrl button to click on additional boxes or apply other extensions with the right click.

Apply a layout to the selection
In unlimited tree charts
Apply a preset of appearance or content to the selected boxes by selecting it from the drop-down menus of the Tools panels. You can also make a customized layout by clicking the button

. Modify the layout and change any items in the selected boxes.
Check out the article (Windows) Unlimited size tree chart : ancestors, descendant and hourglass for the details of customization manipulations.
In predefined sized trees (fan, single-page, designed)
For Single-page tree charts and designed tree charts, use the Tools panels to change the layout and contents of the selected boxes.
For fan tree charts, choose the highlight color in the Boxes area of the Tools Panels, it will apply to all tree boxes containing the selected persons. If you want to go back to the tree presentation before the change, click the Default button for the same selection. You can change the format of the text by clicking the button

Layout.
Check out the articles (Windows) Predetermined size tree charts : Single-page Chart, Designed Chart, Fan Chart for detailing the setting of these trees.