Repositories Index
https://help.heredis.com/wp-content/themes/corpus/images/empty/thumbnail.jpg
150
150
Heredis - Help Knowledge Base
Heredis - Help Knowledge Base
https://help.heredis.com/wp-content/themes/corpus/images/empty/thumbnail.jpg
Search Knowledge Base by Keyword
Repositories Index
Heredis verify every data in the repository section. Every new entry is inserted in the Repository Index. To manage all repositories registered in your genealogy file, select the Tools Menu > Repositories Index; or directly from the Sources index, click on (PC) Tools button / (MAC) Option (indented wheel) button then select Repositories Index; or from the toolbar click on the 
 button.
Create a new repository
PC Entering Repository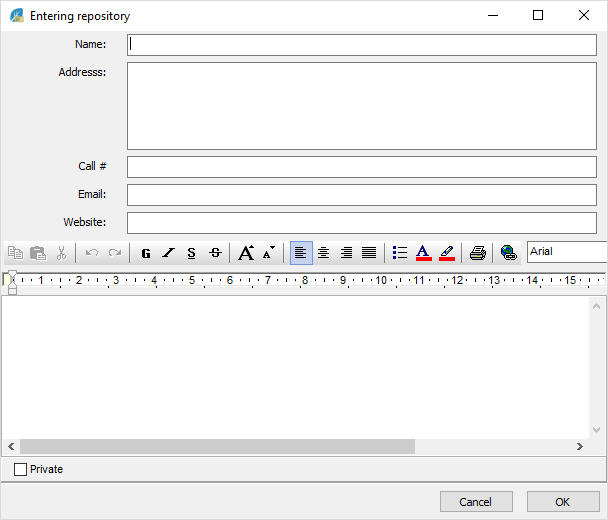 MAC Entering Repository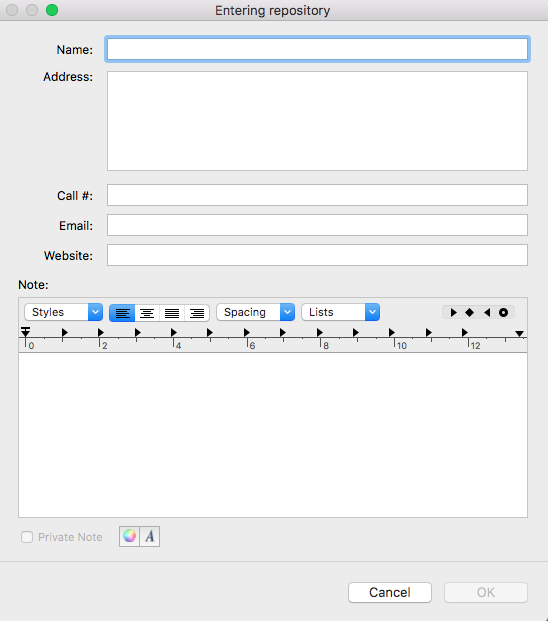 Click on the  button to enter a new repository.
Write all the data you dispose of on the new repository in the sections: name, address, call #, email, website.
You can also add a note: write directly in the word pressing, and use the toolbar if you wish to edit.
Check the Private Note box to exclude this note from file exports and publishing.
---
Access to a repository
Click directly in the repository in the displayed list.
or Press the arrow touch of your keyboard to access it.
or Enter the first letters of the repository in the search bar. You can reduce the repository list by ticking the box "unused repositories" to see only the unused repositories and eventually delete them.
When you select a repository in the list, find directly to the right the entered information: name, address, call #, email, website and note. All sections displayed can be modify from this screen.
The sources using the repository are displayed under the repositories index.
Double-click on one of the use to display directly the detail of the concerned source.
---
Modify a repository
PC Modify a repository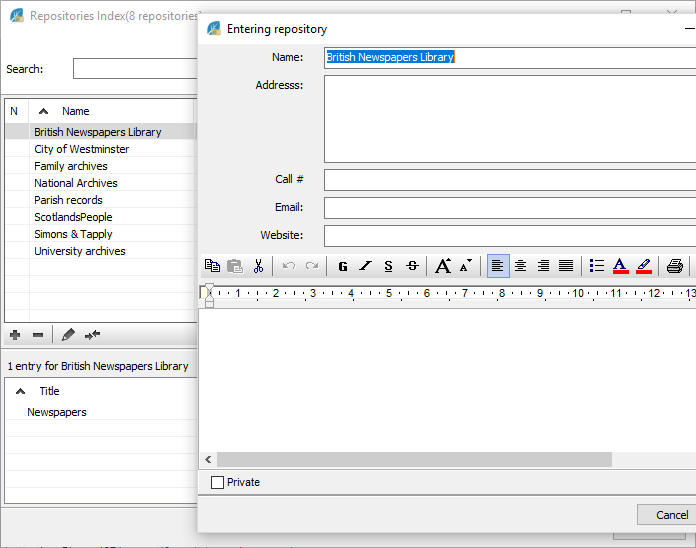 MAC Modify a repository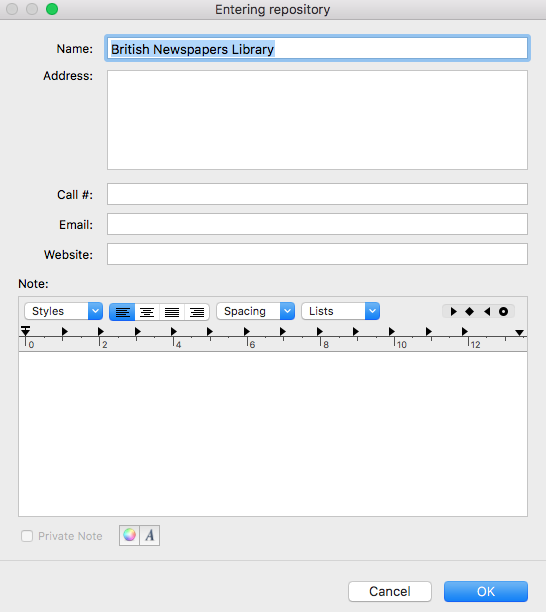 Heredis allows you to modify a repository at any time.
Select the repository to modify then click on the pencil

button.
Or double click on the displayed repository in the list.
Modify directly the sections you want. If you change the name of the repository, Heredis will impact this modification on every source linked to this repository.
---
Merge 2 repositories
You may have save duplicates in the Repositories Index, merge them to keep only one in the Index.
PC Merge 2 repositories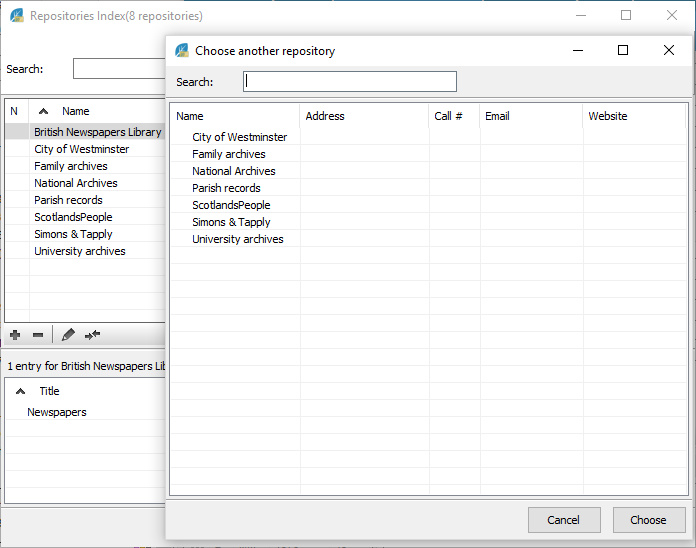 MAC Merge 2 repositories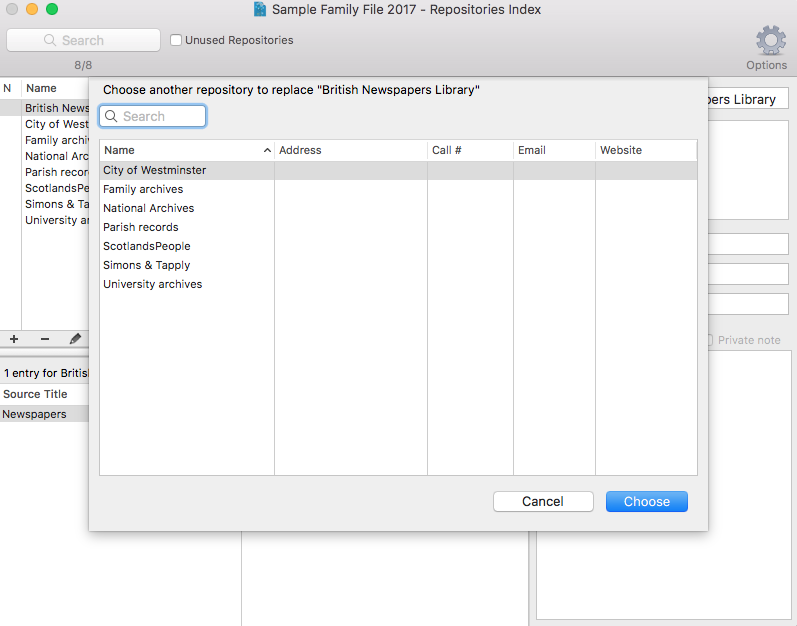 Select the A repository to erase
Click on the  button
Select the B repository to keep
Click on the Choose button
Heredis indicates the number of replacement that will be done
Confirm the replacement of the A repository to the B repository by clicking on the Yes button. All sources attached to the A repository will be modified.
---
Erase a repository
Select the repository to delete
Click on the button. If you erase a used repository, it will also be erased from the linked source.
---
Multi-Selection
To treat multiple repositories at the same time:
Press the (PC) Ctrl or Maj / (MAC) Cmd or Maj key and, while holding this key down, click on the different repositories you wish to select.
Then choose the appropriate action, erasing or replacement.
---