Synchronizing via USB
Synchronizing via USB
https://help.heredis.com/wp-content/themes/corpus/images/empty/thumbnail.jpg
150
150
Heredis Help Knowledgebase
Heredis Help Knowledgebase
https://help.heredis.com/wp-content/themes/corpus/images/empty/thumbnail.jpg
Heredis can detect removable devices (USB, external hard-drive) connected to your computer.
You are going to your country home? Synchronize your genealogy on a USB flash drive with the Sync button then the USB button and then connect it to your home computer in the countryside. You can update your file instantly.
Before leaving, synchronize your computer again with the USB flash drive and update your files with all your weekend ­work as soon as you return home.
Exchange with another Windows or Mac
Synchronize your genealogy on a USB flash drive or an external hard drive. The synchronization process is the same as for the devices on the WiFi network.
Click the Sync via USB

 button or choose File menu > Sync Via USB….
In the Synchronization window, select the device that you have con­nected, check the direction of synchronization then click Send or Receive according to the synchronizing direction you have selected.
(Windows) Synchronization screen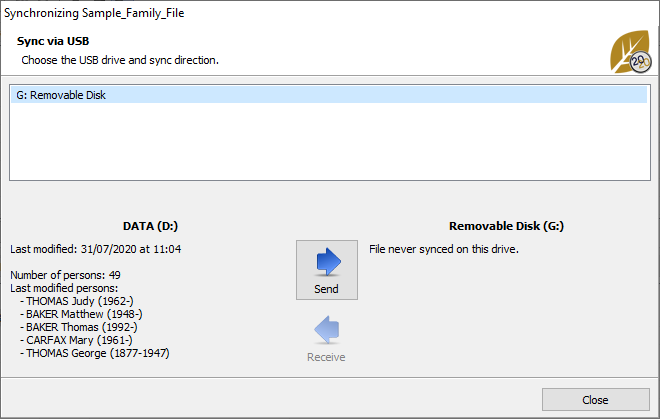 (Mac) Synchronization screen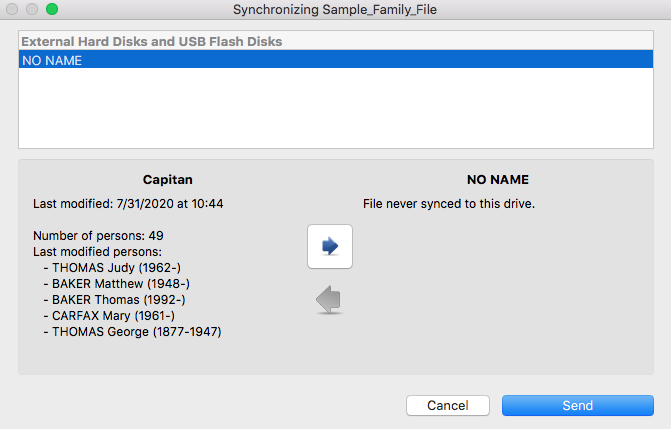 When synchronization is complete, you may plug in the device to another computer (Windows or Mac).
Whether on launching Heredis or during work, Heredis will inform you if a new genealogy or a newer version of the genealogy exists on the device you have connected and will propose to synchronize your computer with this genealogy. So, when you work, just think of plugging your USB key or external hard drive disk.