Geolocating Places
Geolocating Places
https://help.heredis.com/wp-content/themes/corpus/images/empty/thumbnail.jpg
150
150
Heredis Help Knowledgebase
Heredis Help Knowledgebase
https://help.heredis.com/wp-content/themes/corpus/images/empty/thumbnail.jpg
Consulting Places maps
Heredis does everything for you to visualize the places where your ancestors lived.
The Places Index will display an interactive map for the selected place. If Heredis has been unable to identify the place, you can your­self indicate where it is by using the geolocation tool.
Visualize the map
Display the Map of selected place from the Map tab in each event or in the Places index.
Open the Places index.
(Windows) The map is displayed on the bottom right of the index when you have selected a place.
(Mac) Click on the Map tab on the right part of the screen when you have selected a place.
Browse the map using the navigation tools. Zoom or reduce to get a better understanding of the geography of the place.
(Windows) Map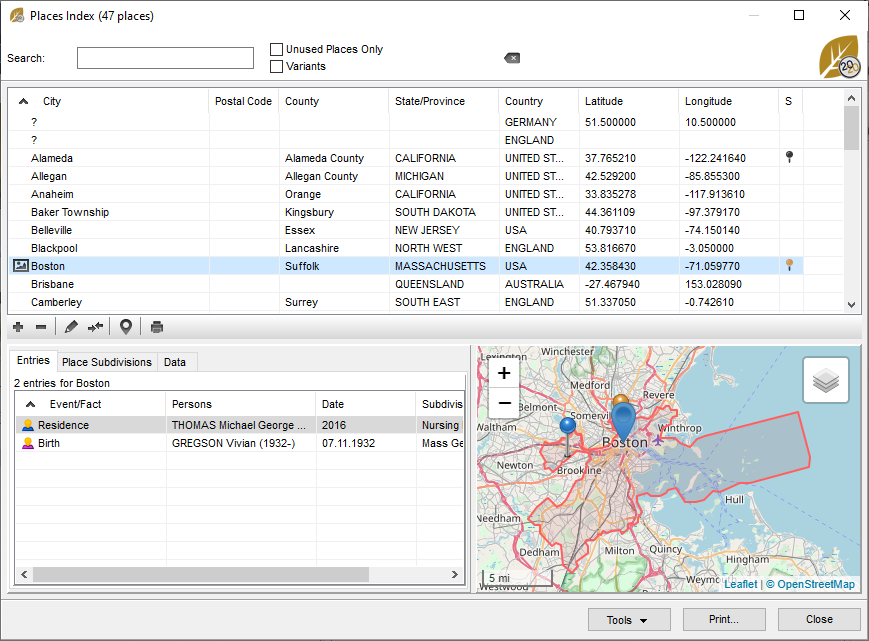 (Mac) Map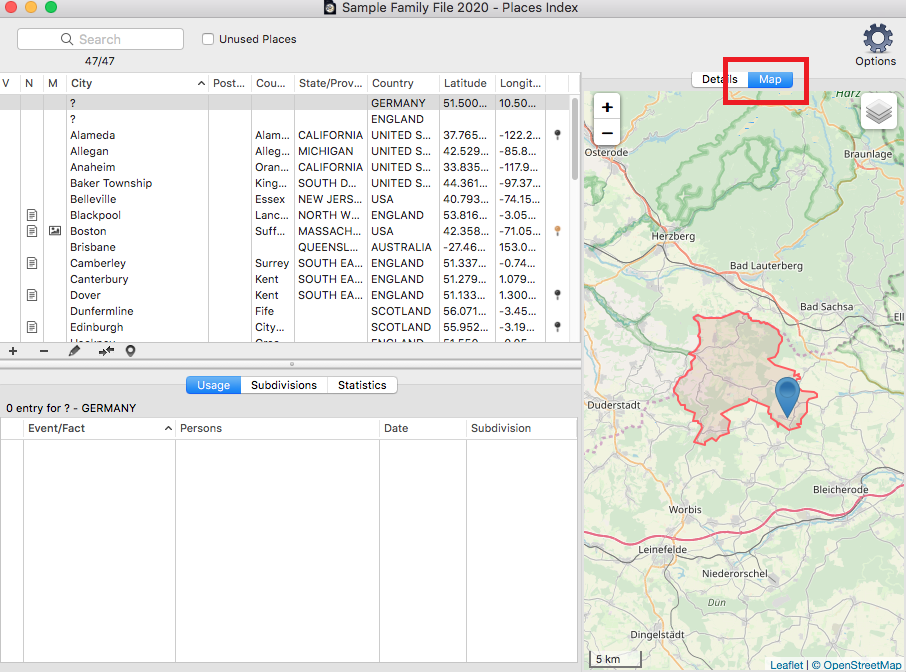 Geolocate unrecognized places
Edit the place by double-clicking on it or by using the pencil

button after selecteing the place to edit.
If no map appears on the Map, you must specify the coordinates of the place. If no latitude and longitude are available, Heredis will not be able to localize this place. For example, you can enter the old name of a city in the city field and search the Suggestions field with the current name. Heredis launches a search in OpenStreetMap and will geolocate the current location.
Click on Fill up to complete the missing data or click on Replace to modify the fields entered by the OpenStreetMap indications.
(Windows) Geolocate unrecognized places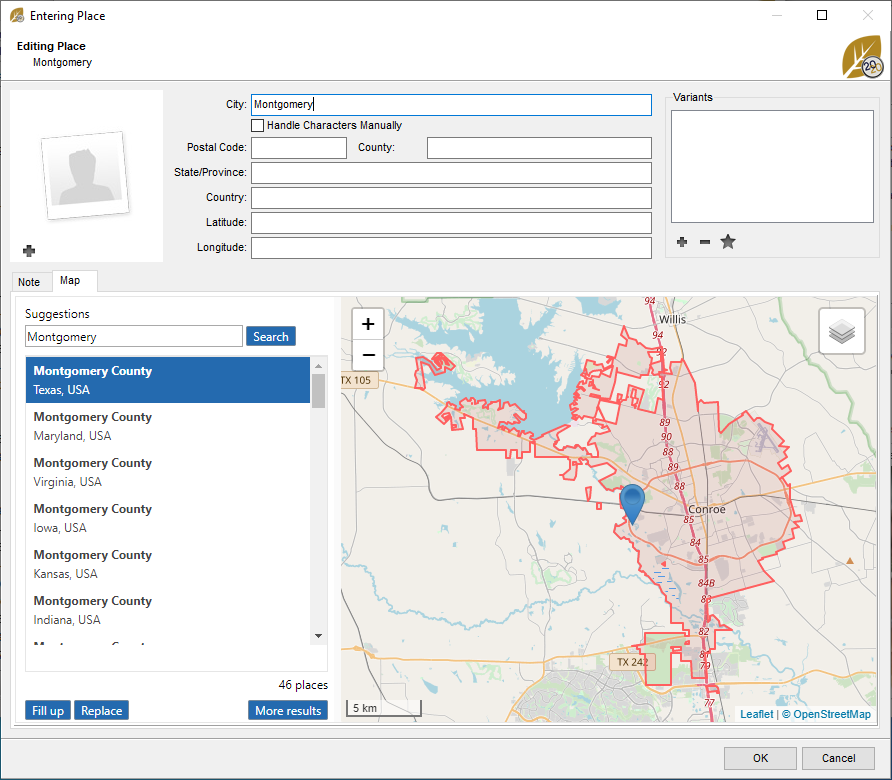 (Mac) Geolocate unrecognized places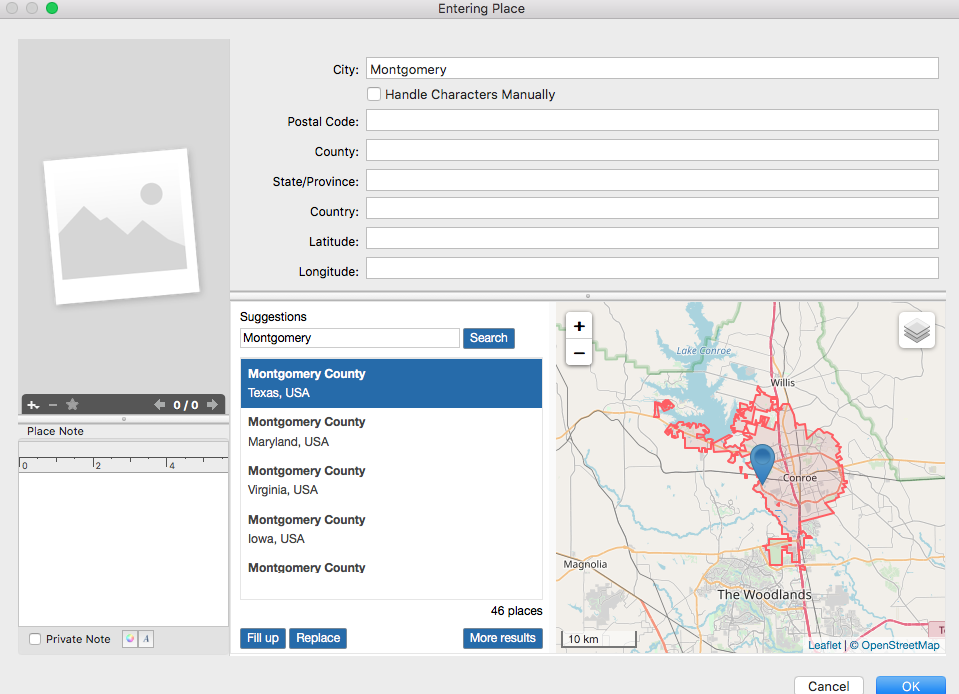 See also Places index article.
Info • You may also access the map of the place in the History > Migrations tab, in the Search > Search Wizard > Map tab and in the Data > Personal Data tab. Click the Map tab for each event provided that a place has been entered.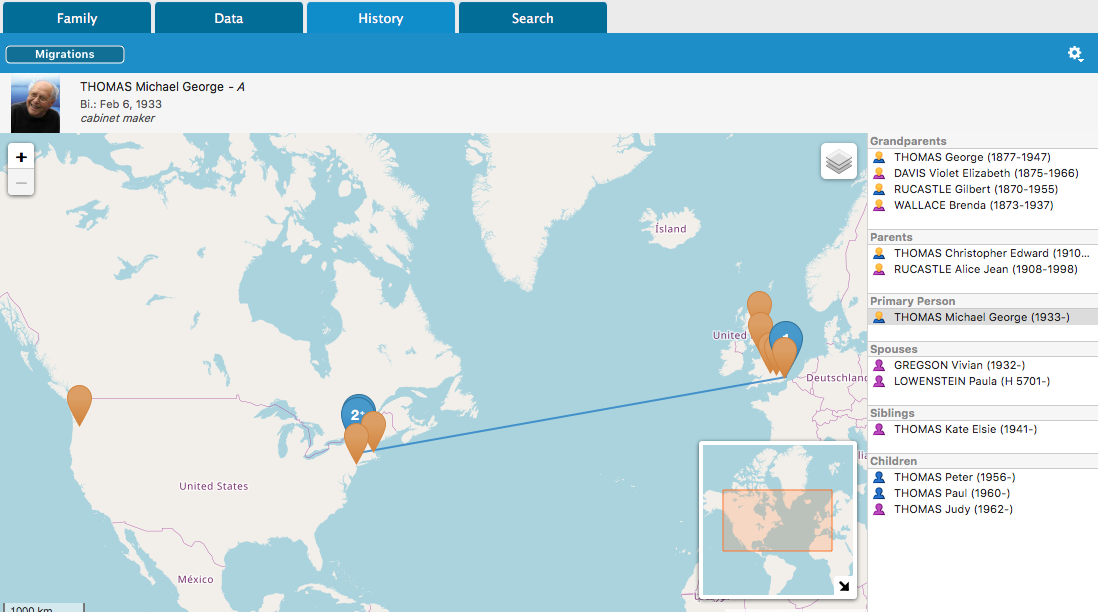 See also Geolocating Places subdivisions, Zoom in on the World – Family Tree Mapping.