(Windows) Save the tree chart
(Windows) Save the tree chart
https://help.heredis.com/wp-content/themes/corpus/images/empty/thumbnail.jpg
150
150
Heredis Help Knowledgebase
Heredis Help Knowledgebase
https://help.heredis.com/wp-content/themes/corpus/images/empty/thumbnail.jpg
Save the tree charts created with Heredis. You may modify or print them later. The tree chart file can be reopened, changed and saved, as a
Saving a tree chart for the first time
Click the Save button, choose File menu > Save.
In the File name field, change the name of the tree chart if necessary.
Choose the location where the tree chart should be saved, if you do not want to save it in the default folder.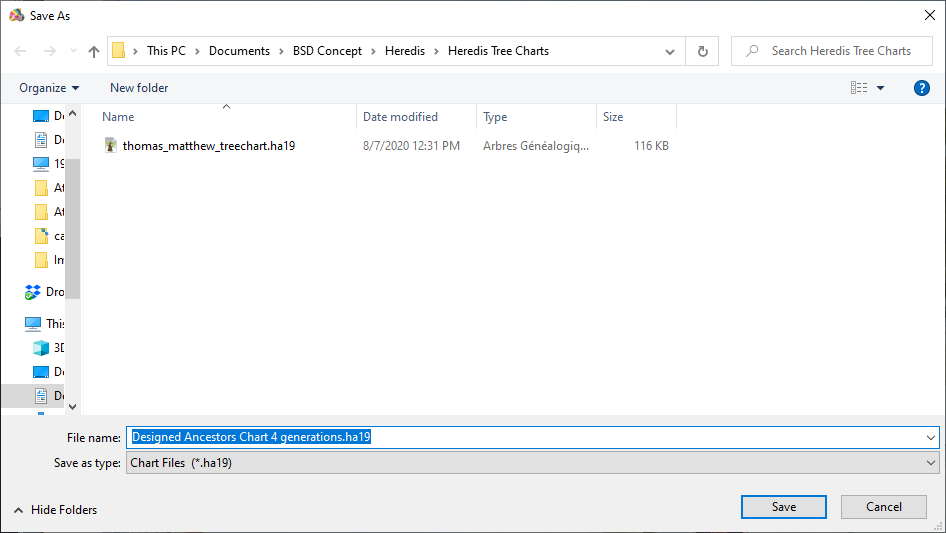 After saving your tree chart for the first time, click again the Save button to save it as you work.
Save a copy of the tree chart
This action allows you to keep the displayed tree to continue its formatting and to duplicate it to apply other different changes or save it.
To obtain a copy of the tree chart and make further changes, select File menu > Save a Copy…
It doesn't open automatically the copy of the tree chart. You can keep working on the original tree chart.
Reopen a saved tree chart
To reopen a saved tree chart:
From the Heredis home page, click on Open a chart file.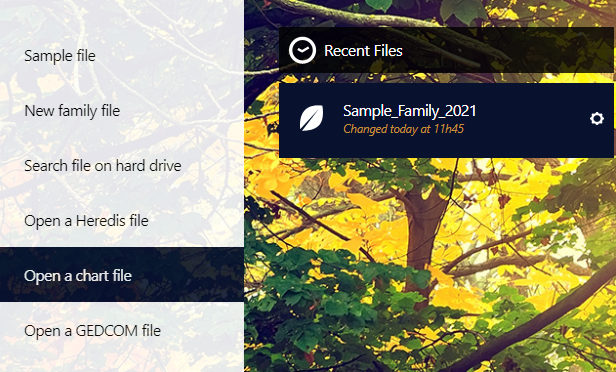 Choose the location in your Windows Explorer and click Open.
From your Heredis file, select the File menu > Open. Select the location of the tree file to open on your computer and make sure you have selected the Charts Files type. 

Heredis allows tree opening saved from version 11. Select the file you want to open.

 

By default, Heredis saves the tree charts you created in the Documents/BSD Concept/Heredis/Heredis Tree Charts folder.

 

If the tree chart was saved in another folder, select it in Windows Explorer.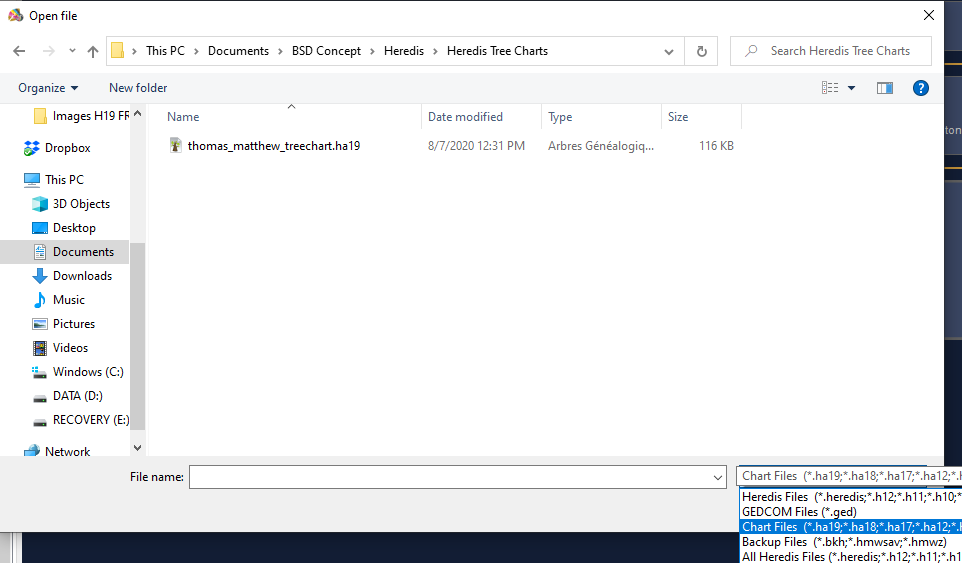 Click Open button.