(Windows) Install Heredis' software
(Windows) Install Heredis' software
https://help.heredis.com/wp-content/themes/corpus/images/empty/thumbnail.jpg
150
150
Heredis Help Knowledgebase
Heredis Help Knowledgebase
https://help.heredis.com/wp-content/themes/corpus/images/empty/thumbnail.jpg
Download Heredis by clicking on the Download button in the email sent to you after you bought Heredis.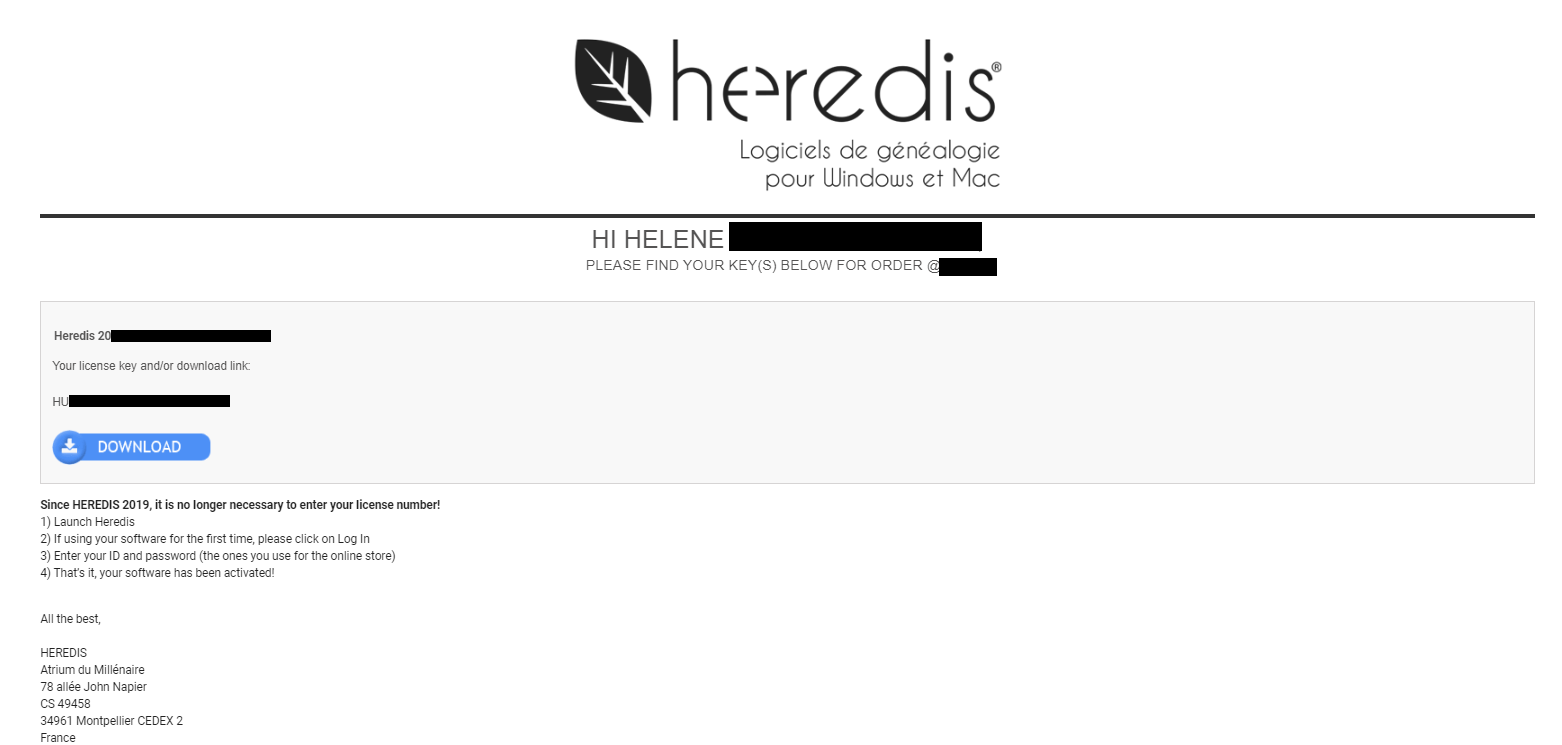 ---
You can't find the email in your mailbox?
Download Heredis from your account on Heredis' Shop under My Keys section.
1- Rendez-vous to : shop.heredis.com
2- Connect to your account by clicking on Sign in :
​​
​​
3- Enter your email address and password used to buy Heredis.
​​​​
​​
4- Click on MY KEYS section to get your licence back and access the download button :
​​
​​
5- Click on De​​tails button at the end of the order reference corresponding to your order of Heredis. A Download button will appear bellow the sheet click on Download button to start downloading.
When the download is over:
Open your Download folder
Double-click on InstallHeredisWorld20xx.exe file.
Follow instructions, it will guide you through the setup process.
When setup is over, double-click on Heredis 20xx icon on your desk or access through Windows explorer (Programmes – BSD Concept – Heredis 20xx).
---
Heredis License
Warning: you dispose of a personal and confidential license for 3 installations. Once the 3 installations made, you will have to buy a new license.
Your license is linked to your Heredis account. This unique number, personal and confidential, was sent to you in an email with the downloading link.
How to register your license?
You have to be online to register your license and receive automatic corrective updates.
For further information see Activating Heredis.