Save a genealogy file
https://help.heredis.com/wp-content/themes/corpus/images/empty/thumbnail.jpg
150
150
Heredis - Help Knowledge Base
Heredis - Help Knowledge Base
https://help.heredis.com/wp-content/themes/corpus/images/empty/thumbnail.jpg
Search Knowledge Base by Keyword
Save a genealogy file
Remember to save your file regularly during your genealogy work session. When the file has been modified, a black dot appears in the close icon of the file screen ; it needs to be saved.
Manually
Click the Save button

, or choose File > Save
Automatically
For security you can schedule automatic saving of your data.
PC Select Automatic Save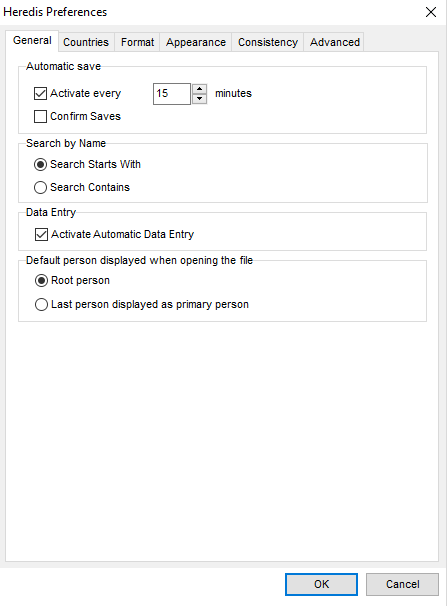 (PC) Select Tools > Preferences > Heredis Preferences. Click on the General tab and tick Activate every… to indicate the frequency of the savings. If you tick the Confirm saves box, Heredis will ask you a confirmation for every automatic saving.
MAC Select Automatic save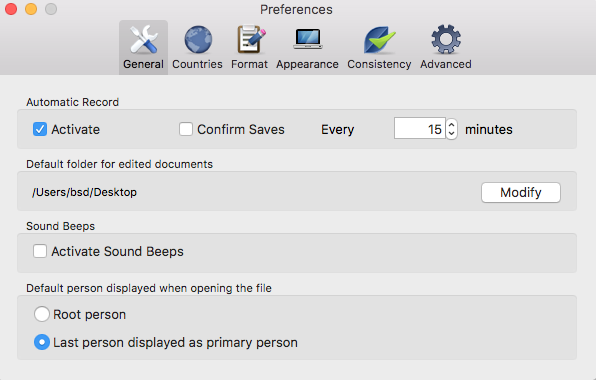 (MAC) 1. Choose Preferences from the Heredis menu
2. Click the General button and tick the Activate box in the Automatic Save field. Indicate at what frequency you want the data saving to be performed.
3. Tick the Confirm Saves box for Heredis to warn you before each automatic saving.
---
Save a file under another name
If, for example, you want to make a copy of your genealogy, or create a back-up copy or make several versions, you can save the file under a different name or in another location.
(PC) Select File > Save a copy. Indicate where you want to save the duplicated file. Heredis creates a file .hmw, with genealogical data (file .heredis) and the folder containing the medias or a .ha12 file if it is a tree chart. Then click Save.
(MAC) Choose File > Save as and specify a name and location.
The file with the new name is now open on the screen. To work on the previous version, choose File > Open Recent and select the previ­ous version in the submenu.
---
(MAC) Return to the saved version
Heredis allows you to reopen your genealogy as it was the last time it was saved. This is very useful, for example, when one has made a mistake during an import.
Choose File > Revert to Saved.
Heredis closes the active file without saving and then reopens it as it was before the latest changes.
Info • Any changes made after the last saving will be lost.
---