Media Index
https://help.heredis.com/wp-content/themes/corpus/images/empty/thumbnail.jpg
150
150
Heredis - Help Knowledge Base
Heredis - Help Knowledge Base
https://help.heredis.com/wp-content/themes/corpus/images/empty/thumbnail.jpg
Search Knowledge Base by Keyword
Media Index
Open the Media Index from the Tools menu, from the toolbar 
, (Mac) or by clicking the 

 Index button in the Media panel toolbar.
• In the Search section, type in the name (or part of the name) of the media you are looking for. The number of items matching your search is displayed right underneath the Search section.
(PC) Media Index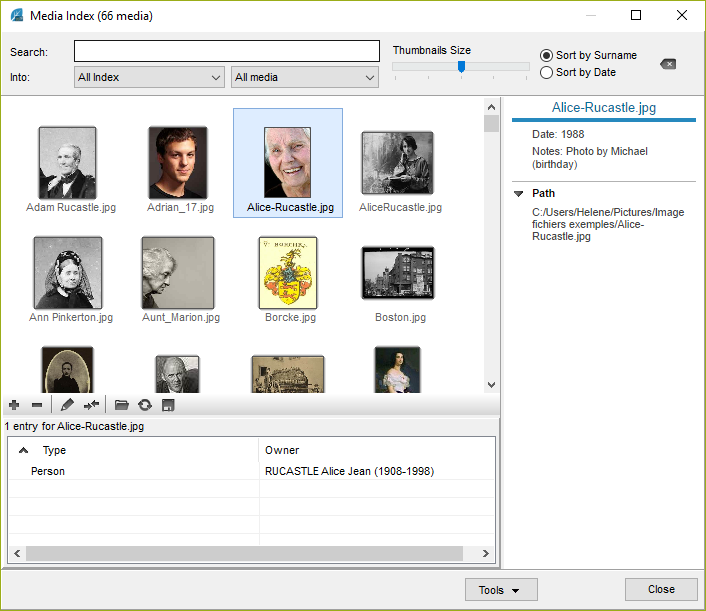 (Mac) Media Index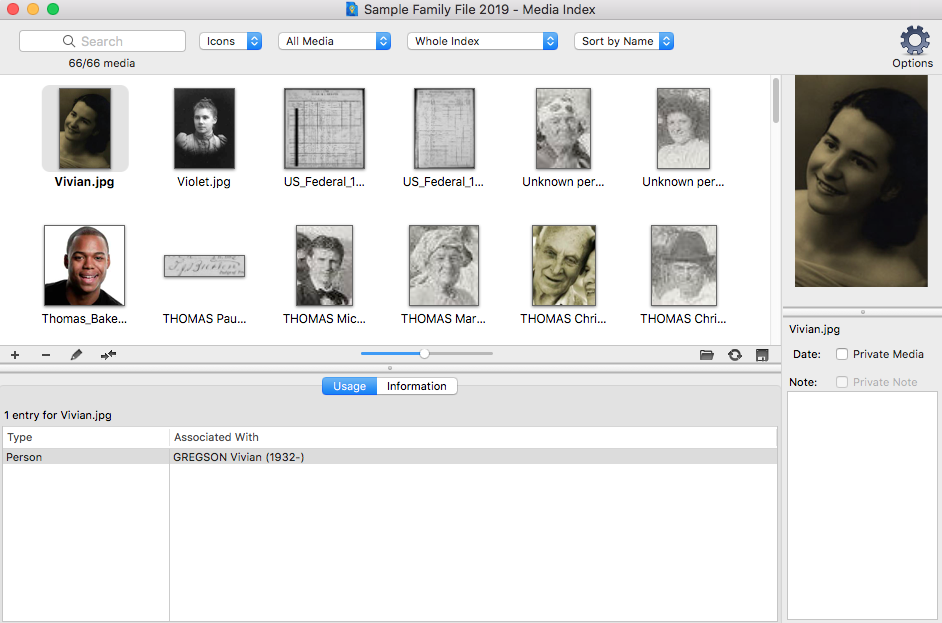 (Mac) Click the Magnifying Glass icon to select the search mode: "Search Starts With" or "Search Contains" the letters typed in.
In order to delete or replace the searched word, click on the (PC) or (Mac), which appears in the input area.
• The search can be limited to a single type of media by selecting it from the first pull-down menu: Image files, Audio files, Video files, Other types, Missing Media, Private.
• Filter your search according to the type of data the media is assigned to by selecting in the second pull-down menu: Persons, Families, Sources, Events, Surnames, Given Names, Places, Unused Media, etc.
To better identify the selected media:
• Sort the list or icons according to the name of the media or to the date you have entered.
• Change the media display mode – List or Icons – by clicking on the related buttons. You can also enlarge the icons using the zoom cursor.
Info • The results displayed as a list can be sorted according to the presence of a Note (N), of a Private media (P), or according to their name, by simply clicking on the column header.
If a media is selected on the list, you can consult the data it is related to by clicking the Usage tab. Double-click the data you are interested in and it will be displayed in a new window.
For more details, please consult the Media article.
---