Import a GEDCOM in a new file
https://help.heredis.com/wp-content/themes/corpus/images/empty/thumbnail.jpg
150
150
Heredis - Help Knowledge Base
Heredis - Help Knowledge Base
https://help.heredis.com/wp-content/themes/corpus/images/empty/thumbnail.jpg
Search Knowledge Base by Keyword
Import a GEDCOM in a new file
You have already created a gene­alogy file or you have been given one created on another applica­tion? Importing a GEDCOM file, the recognized standard in the world of genealogy, is very sim­ple.
From the Heredis Home Page, choose the (PC) Open a GEDCOM File ; (Mac) GEDCOM File in the Open menu and click OK.
The GEDCOM file must have the extension .ged to be recognized by Heredis. Select the file and click (PC) Done, (MAC) Open.
Save the new Heredis file to be created and wait while Heredis ana­lyzes the data.
Check the information found in the GEDCOM file (quantity of data, structure of places). Open each field of places, to change, if neces­sary, the type of data it contains.
Complete the import options by ticking the information you want to find in your Heredis file (images, sources). You may add a source common to all events imported. In this case, tick the box and fill in the name of the source.
Mac Import a GEDCOM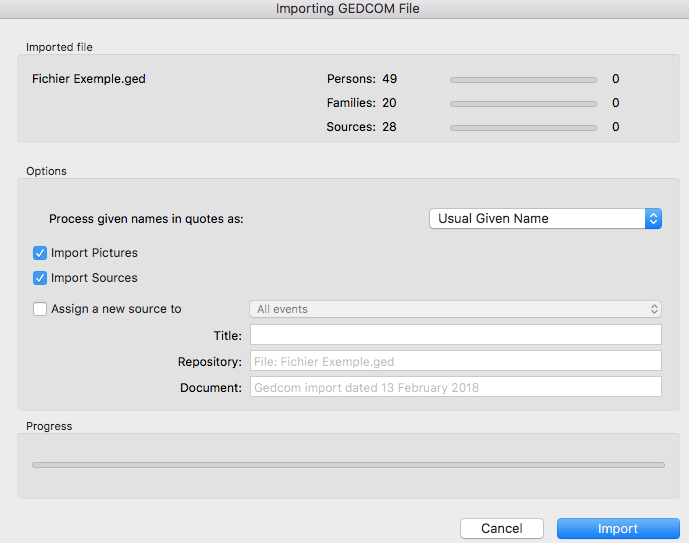 PC Import a GEDCOM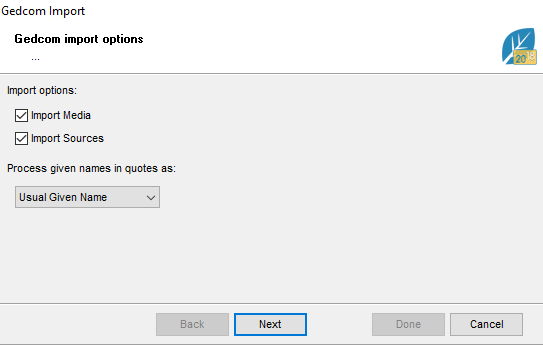 (Mac) then click Start Import.
You can now work on your genealogy, add to it, edit anything in it. Heredis records all inputs every time you use the Save button, so you can revert to previous versions of your genealogy.
You can exit Heredis at any time. When you reopen the file, it will open your genealogy as it was at when last saved.
---